Many people know about the history making women in front of the camera, but to often women that create magic behind the lens go unrecognized. Though only one of the women that I list today has won an Oscar, they all deserve the accolade that they have received outside of the Academy

.
Irene Cara
was made famous by her appearance in the movie
Fame.
She is the first African American woman to win an Academy Award for a non-acting role. In 1984, along with composer Giorgio Moroder and co-lyricist Keith Forsey, she won an Academy Award for Best Original Song for the song
Flashdance (What a Feeling
). Some of her credits include starring in the Original
Sparkle
, several Broadway shows including
The Wiz
and
Ain't Misbehavin'
, and television appearances on
The Electric Company
, and
What's Happening!!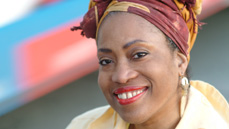 Yvonne Smith
was the first black person nominated for an Academy Award for Documentary Feature for her work on a film
Adam Clayton Powell
in 1990. I have had a hard time trying to locate further information about this history maker, but she did produce the Independent Lens documentary
Parliment Funkadelic: One Nation Under A Groove
.
Karolyn Ali
was nominated in 2004 for an Academy Award for Documentary Feature as a producer for
Tupac: Ressurection
. I have not been able to find out much information about Ms. Ali, however some of her credits include appearing in two episode of
Unsung
television documentary series and production of the 1995 thriller
Klash
.
Janet Jackson was nominated in 1993 for an Academy Award for Best Original Song for Again

from the feature film Poetic Justic

e
.
Along with being a member of the international famed Jackson Family, her credits in

clude
six films, three recurring television roles and countless other television appearances

,
six tours, ten studio albums, countless #1 singles and platinum albums. She has made her dent in the music industry and
I
hope that more chart toppers are in her future.

Siedah Garrett
is currently the most nominated African American female songwriter. She has been nominated for two Academy Awards in the category of Best Original Song. In 2006 she shared a nomination with Henry Krieger for Love You I do from critically acclaimed Dreamgirls. In 2011 she shared a nomination with Sergio Mendes and Carlinhos Brown for Real in Rio for the animated feature film Rio.
Some of her accolades include three albums, countless background vocals, seven album credits, and one Gramm

y.
Hopefully there are more nominations in her future.
Dianne Houston
is the the first

black

woman to be nominated for an Academy Award in

category of Live Action Short film in 1995 for Tuesday Morning Rid

e.

One of her first major projects was as an executive story editor for the television drama series Brewster Place

.

Some of her other accomplishments includes several screenplays, being the executive story editor and director for the television series City of Angels

,

co-writing the television movie Run for the Dream: The Gail Dever's Story

,

directing NYPD Blue

,

and many other successful projects. The future is still bright for the golden nominee

.
Suzanne de Passe
is the first black person and woman to be

n

ominated for Best Writing (Origin

al

Screen

play)
for her work with
Lady Sings the Blues
in 1972. A former creative assistant for
Motown.
She is credited with bringing the
Jackson 5
to the attention of Berry Gordy. Her credits include being the Executive Producer of
Sister Sister
and
Smart Guy,
work on several mini-series, numerous Motown Specials, 130
Showtime at the Apollo
episodes, eight award programs, thirteen awards and counting, as well as innumerable associations affiliations, and honorary degrees. Truly a priceless inspiration.
As I look at the photos of these seven women and the two that I highlighted yesterday, I realize that there is history to be made. Only six African American women have won Oscars in front of the camera and only one woman has won an Oscar for work behind the screen. It is time for change. Maybe one day I will be apart of it, maybe I won't, but I hope that the young women of my generation will pick up the torch and create opportunities for themselves, blow the doors down.
Peace, Love, and Cinematic History,
Najeema Iman, I AM Curly Locks(Future History Maker)